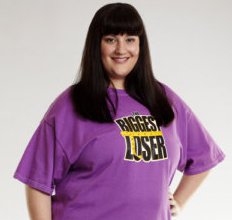 According to the Letters to Twilight site:
"Dear LTTers,
We're SO excited to announce that TONIGHT on the season premiere of Biggest Loser, you can meet our darling Olivia (or maybe you remember her from her LTT commenter name Obird) who is a contestant this season! We "met" Olivia through LTT & over the years have had the extreme privilege of becoming real life friends with Olivia (and even made her sing opera in Moon's room when we snuck out of our big LTT party back in June!) We are SO excited for her & this opportunity.
Support Olivia by Joining her Facebook page, Following her on Twitter, Tracking her progress on her Biggest Loser Contestant Page and of course watching the show TONIGHT on NBC at 8/7c! (I have no idea what the international time or availability is- if anyone knows, post it in the comments!)
Olivia & her sister Hannah are on a team together, so root for TEAM PURPLE along with the rest of their LTT friends-turned-real-life friends!!!"
One of Alphie's friends, Liz, was on the show two years ago.  Best wishes to Olivia as she begins her journey!