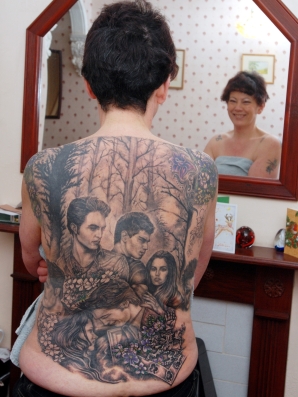 We've seen a lot of Twilight themed tattoos over the years. This one has a rather unique story to go along with it. So far, Cathy Ward has spent £2,200 (which is roughly equal to $3,400 American dollars at current exchange rates), and has endured almost an entire day under a tattoo artist's needle.
"I got hooked on Twilight at Christmas last year and since then I have gone from size 24 to 10. I have never been more positive, more outgoing, fit and never had so much fun in my life."
Mrs Ward bakes cakes for Morrisons in Whitley but at home she heads for the cross-trainer in her Twilight-themed spare room where she works out to DVDs and soundtracks of the movies.
Mrs Ward is saving up for her 50th birthday in June but is expecting to undergo another 12 hours under the needle at No Limits tattoo studio, in Oxford Road, West Reading, and invest another £1,500 to £2,000 in her body art before then."
We'd like to congratulate Cathy on her weight loss journey , and best wishes on a bright future with lots of energy to enjoy it!