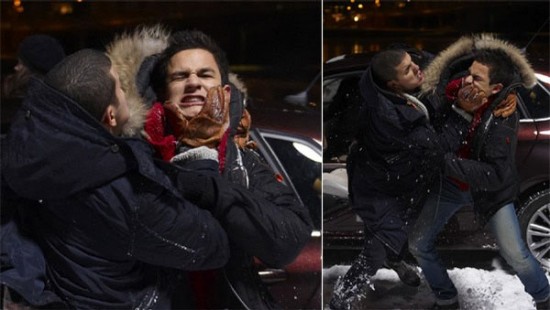 Bronson Pelletier is featured in a recording star from Denmark's music video. Bronson has been spending a lot of time in Denmark because his girlfriend is from there.
According to the Google translation of the MSN Denmark site:
"In biting frosts recorded Basim, 18, Monday her new music video Take Me Back at Islands Brygge in Copenhagen.
– It was crazy cold. I sat some of the time in a Citroen, and the thermometer inside the car showed minus 12 degrees, "said Basim, who got a little heat in the body again when he had to contend with Twilight star Bronson Pelletier, 23
– He needed some beatings, wildcard Basim on scenes with him and Pelletier, which was coordinated to the smallest detail.
– It was not really that hard. He is a good actor. When he is good, I am also good, he explains, but reveals that it went wrong a few times.
– There were a few times where I got to kick him too hard in the crotch. it's quite cool to show off that you have kicked a Twilight star in the crotch.
In the video, and Basim struggling Bronson on the same girl.
– It's a brilliant story – it is something I and others can relate to, "said Basim, who had been going from pm. four thirty in the morning to midnight, before the music video was in the house.
– I think I drank 1:07 to 8:00 Red Bull. I could not have survived without it.
The actor is in Denmark to celebrate Christmas with his girlfriend Sabine and immediately sprang to when Basim offered him a role in the music video.
– He is a super cool person. We have much in common. It's cool that I can play against a Hollywood star like him, "says Basim.
The video for Take Me Back will premiere in late January.
Basim and Bronson Pelletier got acquainted through a mutual friend in Los Angeles when Basim spent a month in the big city in the fall."
See more including a very extensive photo gallery on the MSN Denmark site. Hopefully no one confuses this story with an earlier story that later proved to be entirely false that Bronson was attacked at a convention in the UK.
Via TwilightNinjas