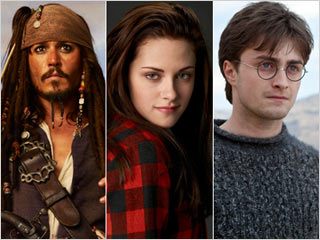 Unlike 2010, that was not filled with tons of blockbusters, 2011 is filled with heavy hitting films. Granted those powerhouses still have to deliver, but EW points out just in in sheer volume how intense it is. It's a good thing we are back to a November release on Breaking Dawn, because there is an awful lot coming out this summer.
EW points to three of what they think will be the biggest:
"Capt. Jack Sparrow in Pirates of the Caribbean: On Stranger Tides (May 20), the beginning of the end of The Twilight Saga with Breaking Dawn Part 1 (Nov. 18), and the end of the end of the Harry Potter saga with The Deathly Hallows — Part 2 (July 15). So many movies! But which, dear readers, can you simply not wait a single second more to see?"
Head over to EW and tell them what you want them to cover.