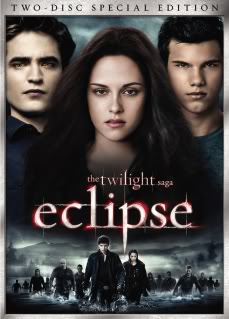 We've been getting a lot of questions on Eclipse DVD parties. Unfortunately there isn't much to report other than what we already have. Here's the recap:
For places specifically hosting a party (not just being open at midnight) check out The Official Eclipse Movie site and plug in your zip code in the search feature. As many of you have noticed, there are far fewer locations than we had for New Moon. Just by way of comparison to New Moon, last year there were multiple locations in Manhattan where release parties were taking place including a Best Buy where Peter Facinelli was present. This year, in the entire City of New York, there are only 3 parties in all of the 5 boroughs: 2 in Staten Island and 1 in Queens. There is nothing in Manhattan, the Bronx, or Brooklyn. The past two years the Lexicon has done events in Manhattan, but since there aren't any available and the other NYC area events aren't convenient to where we live, we aren't doing anything this year.
Places that just so happen to be open at midnight. There are a variety of stores like super Targets and Walmarts that are 24 hour stores that happen to be open at midnight anyway. There won't be a party, but you can get your disc. If you are looking to match your set, Target has the style packaging that Borders was previously using and no longer is. Check with your local store to see if they'll be putting the DVD out promptly at midnight.
Small local retailers. There may be some small local retailers doing midnight release parties that didn't make the Eclipse website. Check in with your local indie book, music, and DVD stores to see if they have anything going.
Actor appearances. Currently we have no info on what locations actors may appear. For New Moon, Summit gave out details on actor appearances the night of the release. There was also a lot of Twitter chatter with the actors before that, hinting at where they might be. So far, no Twitter chatter yet. David Slade will be appearing at the Dark Delicacies store 3512 W. Magnolia Blvd., Burbank, CA 91505December 4th at 6:00 p.m. This is a numbered event and DVD must be purchased at Dark Delicacies. See their website or call the store for more info.
_______________________________________________________
Info for UK fans
Twilight fans across the UK can buy the DVD from 00.01 on Monday 6th December
·         Pre-order Eclipse on DVD at http://www.asda-entertainment.co.uk/eclipse.info for just £9.97
·         Two disc special fan edition available to pre-order for £12.93 or in store from midnight on Monday 6 December
Twilight fans are in for an early Christmas present as over 200 Asda stores prepare to open at 00.01 on Monday morning, 6th December, for the launch of Eclipse on DVD. For the die-hard fans out there, there are two exclusive-to-Asda, special edition DVDs – Double Disk Fan Edition with limited Edition 3D sleeve and The Real World of Twilight: Destination Forks.
The Double Disk Fan Edition includes commentaries from Bella and Edward aka Kirsten Stewart and Robert Pattinson as well as deleted and extended scenes. A must-have companion for the books and movies, Destination Forks showcases the incredible beauty, mystery, moods, and places of the real Forks. The DVDs are available to pre-order for just £12.93 and £5.93 online at Asda.
Fans can pre-order the third instalment of the Twilight Saga online at http://www.asda-entertainment.co.uk/eclipse.info for just £9.93 where there is an official countdown clock for devoted followers to monitor when the DVD and merchandise officially go on sale.
The release of New Moon on DVD saw thousands of fans queuing at Asda stores across the country from midnight and this year Asda is expecting it to be even bigger. Fans can check the list of selected Asda stores that will open at midnight at http://www.asda-entertainment.co.uk/eclipse.info.
In addition to Eclipse (pre-order £9.93), Destination Forks (pre-order £5.93) and Double Disk Fan Edition with limited Edition 3D sleeve (pre-order £12.93) Asda has exclusive designs on "Team Edward" and "Team Jacob" T-shirts (£7) and bags (£5) and there are also books and music on the Eclipse Tower available in-store from 00.01 on Monday 6th December.