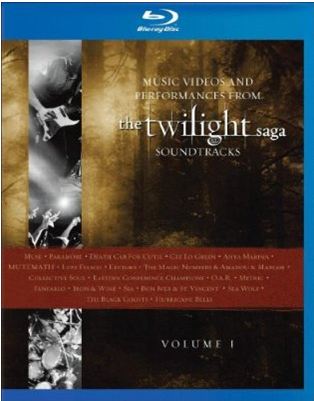 HURRICANE BELLS: "MONSTERS" VIDEO FEATURED ON
MUSIC VIDEOS AND PERFORMANCES FROM THE TWILIGHT SAGA SOUNDTRACKS, VOL. 1 DVD OUT DEC. 4TH
In celebration, Hurricane Bells invites fans to create their own version or interpretation of "Monsters" and post a YouTube link to it on the band's Facebook page. The band will then pick one winner each week for four weeks.  Each winner will receive a prize pack that includes: a Music Videos And Performances From The Twilight Saga Soundtracks, Vol. 1 DVD; a The Twilight Saga: New Moon soundtrack CD; a Tonight Is The Ghost CD signed by front man Steve Schiltz; a signed copy of Hurricane Bells' new EP Down Comes The Rain; and a signed t-shirt.  Please visit the band's Facebook page for more information.  The official video for "Monsters," directed by Bill Moldt and Christopher Bean, can be seen here.
A deluxe edition of Tonight Is The Ghost is now available via iTunes on Schiltz's own label, Invisible Brigades.  This deluxe edition features: "Monsters," previously available only on the The Twilight Saga: New Moon soundtrack; a second non-album track "Until The Morning," from the album's Japanese release version; and a remix of original album track "Tonight I'm Going To Be Like A Shooting Star."Hurricane Bells recently debuted a video for album track "Darkness Is So Deep," which was entirely filmed and edited by Bill Moldt on an iPhone.  Watch the cliphere.
In late September, Hurricane Bells released the Down Comes The Rain EP. Fans can also nab Ghost Stories, a remix EP of select songs from Tonight Is The Ghost, free with purchase of Down Comes The Rain via www.hurricanebells.com. As withTonight Is The Ghost, Schiltz (also longtime front man for Longwave) wrote, recorded, played, and produced the EP entirely himself, this time with backing vocals from Hurricane Bells touring mainstay Ashen Keilyn (of Scout).
Hurricane Bells are currently on the road in support of KT Tunstall through December 1st, when they will wrap up the tour with a hometown show at Terminal 5 in New York, NY.  The band is currently offering a free pair of tickets to each show daily via Twitter and their Facebook page.
Hurricane Bells tour dates (supporting KT Tunstall):
NOV. 23         TORONTO, ON                     PHOENIX THEATRE
NOV. 25         MONTREAL, QC                  CLUB SODA
NOV. 26         PHILADELPHIA, PA           THE TROCADERO
NOV. 27         WASHINGTON, DC            9:30 CLUB
NOV. 29         BOSTON, MA                        HOUSE OF BLUES
DEC. 1              NEW YORK, NY                  TERMINAL 5
www.hurricanebells.com
www.facebook.com/hurricanebells
www.myspace.com/hurricanebells