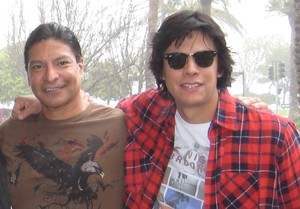 Motley Press has an interview with Chaske Spencer that covers a lot of new turf.  It's in PDF format. Chaske's interview starts on page 12.
It is a long journey from the Northern Cheyenne and Nez Perce reservations of Chaske Spencer's childhood to the red carpet premiers filled with screaming fans in Hollywood and across the globe. A journey through the games of Hollywood, and one that saw Chaske in jail and confronting addiction on a path where he saw death looming in front of him. One constant for Chaske on his journey has been his traditional beliefs which helped him find his center through fame garnered as Sam Uley on the set of Twilight and the harrowing time he spent in jail in New York. Chaske took the time to discuss his journey with us, starting with the whirlwind of
the last year and what his current projects are.
Chaske Spencer: I just finished a movie called Shouting Secrets. I'm pretty proud of that one. We did it in Globe Arizona and I really liked the story. I found out that the script is also written by Steven Judd who is a native American screenplay writer and very talented. It was first written for a Dutch family and they were trying to get it financed and for some reason they switched over to a Native American family and I did not know that when I first read it, so it doesn't really read as a Native American movie. It is like a family movie and the people just happen to be  Native American. It was a different twist on things. It was totally a movie written for a Dutch family and you know it just interested me. I really like the character I play.
I finished that project and I'm gearing up to do Breaking Dawn in November. I think we're shooting through March. After that I'm gearing up doing Winter in the Blood, the James Welch Novel, with Andrew and Alex Smith who did the Slaughter Rule.
Via The BlackPack