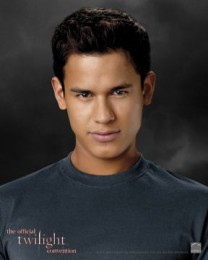 According to the UK's Daily Mirror:
"Four men were arrested after Twilight star Bronson Pelletier was punched in the head at a fans' convention.
Pelletier, 24, who plays werewolf Jared in the saga, was assaulted in the toilets at Eternal Twilight 4. An organiser of the event at Birmingham's Hilton Metropole Hotel who tried to intervene was headbutted.
A fan who attended the bash said: "It was full of teenage girls so no one expected trouble."
Police said two men were released and two bailed in connection with the attack."
We put out some question on Twitter to fans and Bronson asking if this actually happened because the Mirror doesn't have the best record on accuracy, and when we Googled the name of the convention we got results indicating it was in February (turns out it was in October). Here's what we got from fans who were actually there:
i_heart_the_doc yeah it happened… was a wedding party that gate crashed.,.. i think the people holding the con handled it well in the end
lisa9982
it wasn't feb! It was October (et4) and he wasn't attacked! He stepped in to defuse a situation with gatecrashers. Bronson wasn't hurt but the police did talk to him as a witness. One of the organisers did get hurt but the situation was sorted very quickly by police and the gatecrashers were taken off of the premises.
It was in October. I was there. Not entirely sure what happened but the police were there and I got told he was involved.