We just got in this press release and we have confirmed its authenticity with Summit(there were some other scams out there). Also regarding the graphic, it is not the official title treatment artwork for Breaking Dawn (we checked on that too) it's just a placeholder.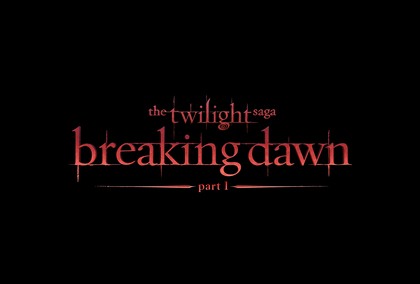 The GO Campaign (www.GOCampaign.org) has partnered with leading charity auction site charitybuzz for its 2010 online auction to raise funds to improve the lives of orphans and vulnerable children throughout the world.  In an incredible gesture, Summit Entertainment has signed on to help GO achieve its goals by donating the ultimate Twilight experience.  One auction winner and three incredibly lucky friends will have the chance to experience first-hand the biggest pop culture phenomenon of the decade as they spend the day on the set of Twilight: Breaking Dawn, including the chance to meet the film's star Robert Pattinson!
The auction package also includes 2 nights in a Deluxe Executive Suite at the elite Four Season Hotel in Vancouver and VIP Limo service to and from the Breaking Dawn set.  Bidding is open through December 8th at charitybuzz at: http://www.charitybuzz.com/catalog_items/221013
Breaking Dawn is the fourth installment in the Twilight Saga franchise, based on the popular, best-selling novels by Stephenie Meyer. Breaking Dawn is directed by Bill Condon and in addition to Robert Pattinson, also stars Kristen Stewart, Taylor Lautner, and Dakota Fanning.
For a complete list of auction items visit www.charitybuzz.com/auctions/GO.
EDITED: FYI There is also an auction to spend the day on the set of Nurse Jackie, the series that Peter Facinelli is currently on