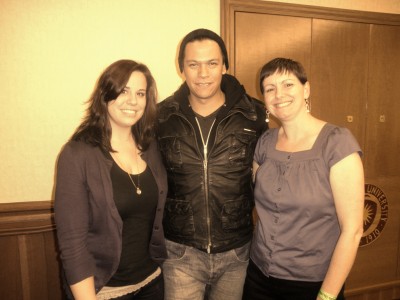 Lexicon reader Alex (Freebird1790 on Twitter) had the chance to hear Chaske Spencer speak at Kent State. She was really excited to hear Chaske speak, and she asked if she could give us the details. Here is her report. Tonight Chaske is speaking at  Colorado State in Fort Collins tonight. The genreal public can attend for $3.00; it's free for current students.
Chaske Spencer Experience
When I think of Kent State, sports, history and academics come to mind. It is not really a school that outside of sports or love of history, that anything exciting happens. So when I saw the headline "Chaske Spencer to Speak at Kent State" I was elated!
I am obviously a Twilight fan but he wasn't coming to talk about Twilight. He came to talk about his drug addiction and his alcoholism and how he is trying to make a difference.
When I found out about it I immediately asked my friend to come along with me. She has come to everything with my including Creation Entertainment Convention's. So we put our names in the drawing to win a Meet and Greet with him and patiently waited to see if we would be lucky enough to win. We didn't win unfortunately, and I was sad because I thought it would be so cool to have a picture with him to add to this experience posting. So I contacted the head of the organization that was holding this and asked if I could get a picture with him, and she said yes!
Basically the whole entire week leading up to his appearance, I was so excited! Then I got nervous the day of his appearance. I had met some of the people from Twilight before but it was always a couple of seconds, take a picture, thank them and leave. But this time I was able to go into the meet and greet and meet Chaske.
When I got up to the suite and after the meet and greet group left, I along with my friend went in with another girl to meet him. Chaske was the most relaxed, funny, kind and most humbled person! He shook my hand and sat back down asking us to sit down! I told him what I was doing and he said "Of course I know Twilight Lexicon!" He said, "I think they were around the New Moon set, and they are pretty cool." So that was awesome that he knew who I was going to write to. I asked him for a picture and I got one with just him and I, and also one with my friend and me. He then offered to sign something, and luckily I had thought to bring my Twilight book. He signed it, being very funny, and we talked a little more, hugged him and then went downstairs.
My friend and I walked out of that room on cloud nine!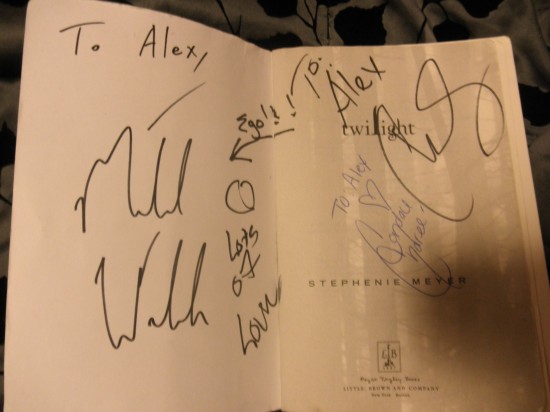 His presentation was very inspiring. He didn't hold anything back about his drug and alcohol addictions. He said that he was always into movies and knew in the back of his mind that he wanted to act. He continued to let us into his past, and I think for any great speaker you must tell the truth. He said the scariest part in his entire life was when he arranged to go to rehab. He said nothing was scarier than the process of getting out of bed, walking to the shower, getting dressed, walking to the door, opening the door, and then stepping into the car and going to rehab. He said that when he was in rehab, he just wanted to get his soul back.
When he got the part of Sam in New Moon, he was excited and didn't realize that on the day that he signed his contract was the anniversary date of his sobriety. When he said this I got chills, because it was almost as if someone was saying "Here is your second chance". Before New Moon, he had never heard of Twilight, and he joked about how he googled it saying, "Oh shit, this is HUGE!" On the plane ride to Vancouver, he watched the first movie.
Through Twilight, he knew that he could help make a difference. He felt that he owed it to everyone to try and do what he could to help others that were and could be in his situation. He wanted to "pay it forward". So he got involved in United Global Shift and also 'Be the Shift'. He wanted to bring a "Sustainable change, not just a band-aid."
Chaske said that he is thankful for many things. He is thankful for being alive, knowing that statistically he is not supposed to be here. He is thankful that he was outed about his addictions because he is now able to help others, and most of all he is thankful for his teeth! (He has a very nice smile, by the way). He also said that his relationship with his family is great! He even brought his parents to the New Moon premiere.
At only his 3rd time speaking about his past specifically, he really made me want to see what I can do to help. He was so inspiring and I was able to tell him that after his presentation. I am so thankful that he agreed to share his story and that Kent State held it. It is people like Chaske who can help make a difference and inspire us to all be better people; and that is exactly what he did for me.
For more information on how you can help make a difference, here are the two websites that he gave us:
www.unitedglobalshift.org
www.betheshift.tv