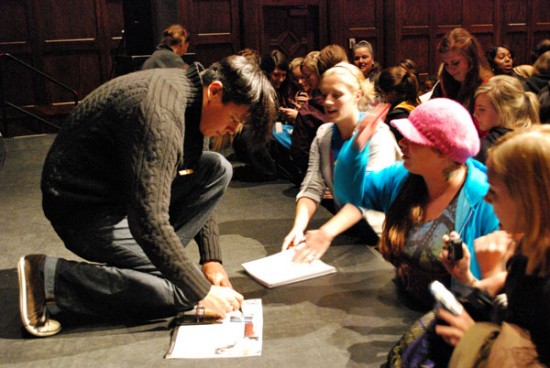 Chaske Spencer has been open about being a recovering alcoholic and heroin addict. He spoke to an audience of 900 regarding his struggles.
"Let me tell you something about heroin," Spencer told about 900 people Wednesday in Warriner Hall's Plachta Auditorium. "It is the drug that kills. It will suck your soul, your life, it is no joke. I put myself in situations that I should have never been in."
These encounters were before "Twilight's" Sam Uley, leader of the Wolf Pack, was even heard of.
"I still didn't think I really had a problem until one day I noticed that I couldn't live without anything in my system," Spencer said."
There is also coverage via the newspaper of the University of Illinois:
"Born in Oklahoma, he didn't move to a Native American reservation until later on in his childhood, where he didn't make an immediate fit, he said.
"They teased me for being an apple. White on the inside, red on the outside, and I didn't understand that," Spencer said.
With a father for an alcoholic, he fell into a crowd of other youths from dysfunctional homes, he said.
"I'm talking dysfunction: There was mental abuse, physical abuse, sexual abuse. I thought that was normal for a long time, and it is on a reservation," Spencer said"
Since getting his life together Chaske has been a vocal supporter of United Global Shift, and has used his Twilight celebrity to bring awareness to causes. He will be at a book launch in New York next week.