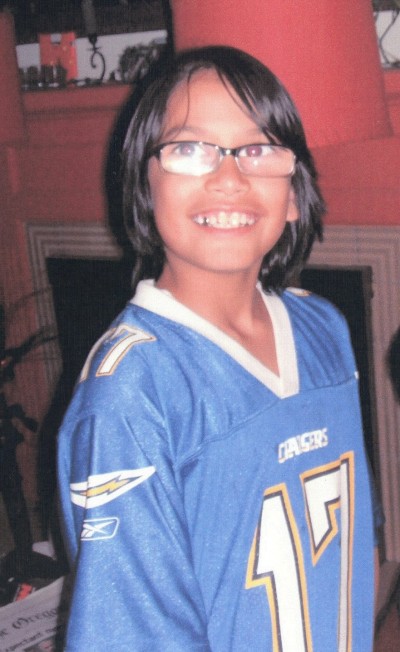 Solomon Trimble who had a small role in the original Twilight movie put out a plea on his Facebook for people in the Portland, Oregon area to help find his missing nephew who is the subject of an Amber Alert. Details below are from the Oregon Live Website.
"Portland police are looking for the public's help in finding an 11-year-old North Portland boy who was last seen about 5 p.m. Tuesday. Police dispatched officers and detectives from the Missing Persons Unit to look for the boy and searched for him throughout the night, but were unable to locate him.
The boy, 11-year-old Lok Chante Marcellay, was last scene getting off a school bus in front of his home in North Portland. He is described as being about 4 feet, 7 inches, about 80 pounds, having straight black shoulder length hair and brown eyes.
When last seen, he was wearing an orange t-shirt, khaki cargo shorts and thick, black-framed glasses.
UPDATED DESCRIPTION:Update: 4'7" and about 80 lbs. Last seen wearing an orange T-shirt and blue with white stripes, Nike wind breaker and tan shorts, and Air Jordan tennis shoes. Lok has thick black glasses and has shoulder length straight black hair and brown eyes.
At this point, police detectives do not think that Marcellay was abducted by a stranger.
Detectives have asked that anyone who knows of Lok's current whereabouts immediately call 9-1-1. Anyone with additional information is asked to contact Detective Mike Weinstein at 503-823-0446″
The family has also set up a Facebook page.
If you live in the Portland area and believe that you may have seen Lok Chante Marcellay please contact the authorities at the above numbers. Also if you live in the Portland area, please help to spread the word and his photo.
The thoughts and prayers of the Lexicon staff are with Solomon and his family.
UPDATE 2: The information below is quoted from the Portland Tribune the article is being revised as details emerge.
Police suspect he was taken by his mother and boyfriend. Morning Star Marcellay, 34, was arrested in Olympia, Wash., early Thursday morning on unrelated charges. Michael Hall is still being sought in connection with the case.
Police believe the boy might be somewhere in Washington, possibly around Tacoma, Olympia or Bellingham.
Police said a court order prevented Morning Star Marcellay from having contact with her son.
Police have asked that anyone who knows of Marcellay's current whereabouts to immediately call 9-1-1.
Anyone with additional information is asked to call Det. Mike Weinstein, 503-823-0446.
UPDATE 3: Lok has been found! According to Oregon Live and other local media:
"An 11-year-old boy who was last seen getting off a school bus in North Portland Tuesday was found safe Thursday evening, the Portland Police Bureau reported.
Lok Chante Marcellay is in good health and spirits, said Sgt. Pete Simpson, a bureau spokesman. His family has been notified, but the boy remains in the custody of law enforcement officers."
The case was essentially one of abduction by the non-custodial parent.  It would seem based on the news reports that alert citizens who saw Lok and reported sightings to officials were instrumental in him being located.