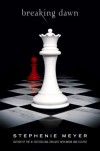 According to Access Hollywood:
"#2 – "The Twilight Saga: Breaking Dawn, Part I"
Starring: Robert Pattinson, Kristen Stewart, Taylor Lautner
Directed by: Bill Condon
Release date: November 18, 2011
Why we're excited: Why aren't we excited is the better question. What better way to kick off the beginning of the end of "The Twilight Saga" then with a little vampire-human wedding & honeymoon action! Plus, we all know what happens on the honeymoon, right???… Room service! No? Hmm. OK, how 'bout this — "There will be sex scenes – multiple sex scenes," screenwriter Melissa Rosenberg previously told Access Hollywood of the romance we'll see between Edward and Bella. Hey now! Summit has yet to announce exactly where the "Breaking Dawn" storyline will be split, but Part I will begin to put the bow on this pop culture-transcending saga, which has turned vampires and werewolves from cheap Halloween decorations to every kid's favorite supernatural bestie. Whether you're Team Edward or Team Jacob or even Team Whatever Happened To That Nice Rachelle LeFevere, grab your lawn chairs and get in line – there's only 14 months until opening night – knowing the "Twi-Hards," the good seats are probably already taken!"
The number one anticipated film honor goes to Deathly Hallows part II. It's hard to feel bad about losing the number one spot to the ten-year in the making conclusion of the Harry Potter movies. What's also really noticeable is the release date. Breaking Dawn is without competition for that Thanksgiving box office spot just like it had for Twilight and New Moon. The other films on the list are all Christmas, July 4, or Memorial Day release where there are multiple blockbusters debuting.
This past summer, Eclipse got lucky when anticipated summer blockbusters like Robin Hood and The Last Airbender fizzled fast. Only Inception lived up to the hype and its budget. Other summer films are hoping to recoup budget in the DVD market-not something Eclipse has to worry about.