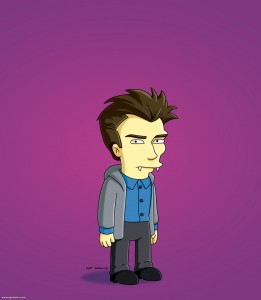 According to the On the Red Carpet:
'The Simpsons will be taking on The Twilight Saga in their annual "Treehouse of Horror" Halloween episode and Harry Potter star Daniel Radcliffe will be voicing a vampire named Edmund.
Fans can see a glimpse of what Radcliffe's character, a vampire named Edmund, will look like in art released by Fox (seen right).
In "Tweenlight," which is a short in the episode, Lisa Simpson falls for the new vampire student."Daniel was very excited to do The Simpsons," exec producer Al Jean told Entertainment Weekly in November 2009, "We kept trying to ask him for secrets from the upcoming Harry Potter movie until we realized that they were all in the books."
See more On the Red Carpet
Twilight Poison found the official summary from  Fox:
THE SIMPSONS (8:00-8:30 PM ET/PT) – "Treehouse of Horror XXI"

The supernatural spells continue in "Tweenlight," when Lisa (Yeardley Smith) becomes smitten with a mysterious new student, Edmund (guest voice Daniel Radcliffe), who also happens to be a vampire. When a romance blossoms, the young lovers run away to Dracula-la Land, leaving Homer (Dan Castellaneta) to come to Lisa's rescue.
It will be interesting to see who else goes the Twilight themed Halloween route. Last two years The Office has had Twilight elements in their Halloween and Christmas shows.