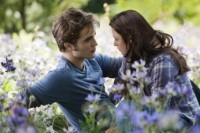 Collider, which provides some of the best Twilight and general film industry coverage out there, has an update on the progress in Louisiana.
"We first heard that The Twilight Saga: Breaking Dawn would film in Louisiana and Vancouver from our interview with producer Wyck Godfrey.  Today, one of the stars of franchise, Nikki Reed, told Hollywood Life she will start filming in "just over a week."  We have confirmed through two sources that the production is currently building sets in the Raleigh Studios at the Celtic Media Centre in Baton Rouge, including Edward's house.  We've been told the interior scenes will be shot in Louisiana, while the exteriors will presumably be shot in Vancouver."
Given that based on the book, much of Breaking Dawn takes place indoors this planning stands to reason.  Major outdoor scenes are mostly limited to wolfpack patrol, the spotting of Renesmee, Bella's first hunt, battle training, and the final confrontation.
Since we are talking indoor scenes at a controlled studio, there's probably not much chance for fans to catch a glimpse of filming in Louisiana.