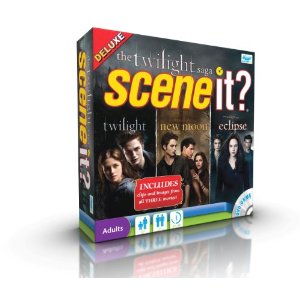 The folks from Scene It have their latest Twilight version out, and it has all three movies represented. Amazon is listing it for $29.99.
According to the Amazon product description the set includes:
Exciting new game features content from all 3 films, including the summer 2010 release, The Twilight Saga: Eclipse
Experience the ultimate trivia game that features all new clips, trivia and on-screen puzzles from this blockbuster franchise
Includes: Game DVD, Flextime Game Board, Shuffle Play feature, 4 Collectible Metal Tokens, 160 Trivia cards
Also includes: 20 Buzz cards, 1 Six-Sided die, 1 Eight-Sided Die, Instruction Sheet, New Enhance Gameplay
TY to Jessica for spotting this and emailing in!