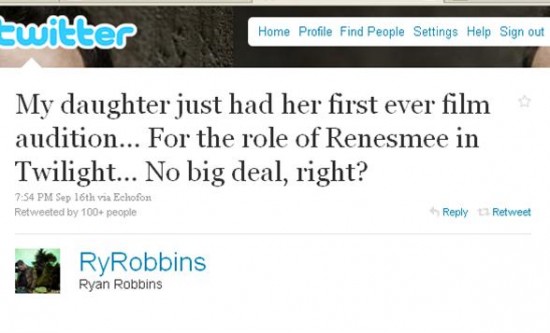 Actor Ryan Robbins, probably best known as a part of the Sanctuary cast, tweeted that his daughter had her first ever audition for the role of Renesmee. This is the latest in several verified reports of children auditioning for the role. Others have included children with a modeling background and a cousin of Bronson Pelletier's.
In each of the cases, when photos have been available, the children appear to be between 4-6 years old based on photos.  Ryan Robbins' daughter, according to the IMDB, was born in 2004 making her 6-years-old (give or take based on her exact birthdate). Given child labor laws and the practicality of getting two-year-olds to act on cue with any degree predictability, it would seem that the 4-6 year old  range might be what's needed to capture emotion in certain scenes, even if it is beyond the two-year-old appearance in the books.
Of course, there is also speculation that they could use a 4-6 year-old child, and then via Benjamin Button type technology, alter her appearance to be younger.
It wouldn't be the first time when obvious age ranges of characters vary greatly from the book. Both Peter Facinelli and Elizabeth Reaser appear well into their late 30's on screen, whereas their book counterparts appear to be 23 and 26 respectively.
If Ryan Robbins' daughter is cast, they can always go to fellow Sanctuary cast member Chris Heyrerdahl for Twilight Saga advice.