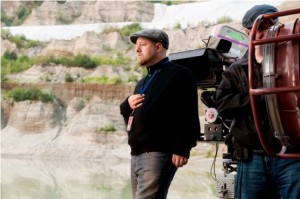 According to the Canadian news outlet The Province:
"Take away the screaming fans outside the barricades, and the making of the mega-hit vampire romance Eclipse had a lot in common with the harsh indie drama Hard Candy, says the man who directed both movies.
David Slade is returning to Vancouver, where he spent a year working on this summer's blockbuster hit Eclipse, to talk to an audience of new filmmakers at the Vancouver Film and Television Forum about crafting a movie scene.
"It's kind of similar, whether you're working for a big studio or on an independent film. It's never a playground," says the British-born Slade, who will talk about the filming of a couple of scenes from each movie Oct. 2 at the industry-themed component of the Vancouver International Film Festival.
The forum hosts filmmakers at the Vancouver International Film Centre from Sept. 28 to Oct. 2. Also speaking will be Jennifer's Body director Karyn Kusama, and Vince Gilligan, creator of TV's Breaking Bad, among more than 70 Vancouver-based and international writers, directors and producers. Registration information and a full schedule are at www.viff.org."
See more on The Province
David isn't the only film maker involved in a panel discussion. This coming weekend, Melissa Rosenberg is in New York City as part of the New Yorker Festival on a panel with Stephen King. Given past commentary of Stephen King, this should be interesting at the very least.