All sorts of things are going on in Forks this weekend. The post office has even gotten into the act and created a special stamp! According to the Forks Forum (the local newspaper):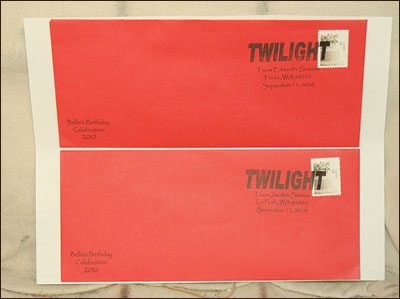 (photo credit: Chris Cook)
"The Forks Post Office and the LaPush Office are issuing two new Twilight-themed stamped envelopes just in time for this weekend's Bella's Birthday celebration at Tillicum Park.
The LaPush Post Office is selling special pictoral postmark of Team Jacob and Forks Post Office is offering a special pictoral Team Edward postmark. Each envelope also has a special Forks cancellation and a birthday cake stamp. Both envelopes sell for $4 each.
Last year the Twilight special issue sold several thousand copies. The special stamped envelopes were only available for a short time and are now collector's items.
A Forks Post Office van will also again be set up at Tillicum Park to sell the Twilight envelopes, plus offer mailing services for Twilight fans who purchase souvenir gift items from Twilight vendors.
For more information on the envelopes send an email to the Forks Post Office."