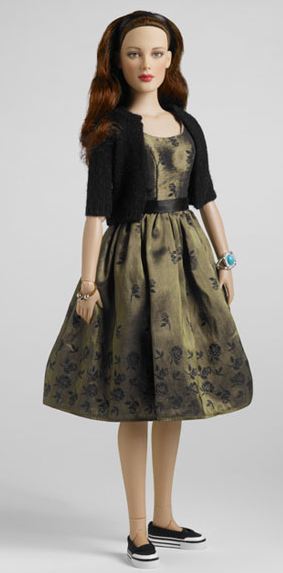 As you know, Bella's birthday is on September 13th. We are planning some fun games with prizes on our forums that will start on the 11th at 1:00 PM ET , and we wanted to kick things off early with our Bella's birthday giveaway.
What better way to celebrate than with the Tonner Doll version on Bella in her New Moon birthday dress!
The description on the Tonner website reads: "A simple paper cut brings a birthday party to a screeching halt, when JASPER is taunted by the scent of BELLA's blood.  BELLA'S BIRTHDAY arrives wearing a crisp taffeta dress with custom rose printing, a soft knit cardigan, bracelets, pantyhose, slip-on canvas shoes, and ribbon headband.   NEW Head Sculpt for 2010 – Kristen Stewart Head Sculpt w/ 16″ Ballerina Bust Tyler Convertible Body."
So if you would like a chance to win this fabulous doll courtesy of Tonner Dolls (a huge THANK YOU to Tonner Dolls for donating the doll and being one of our advertisers), just wish Bella a happy birthday in the comments. We will pick a random winner at 11:59pm est on September 13, 201o.
Make sure you check out the other new dolls in Tonner's line: The New Moon Edward, the New Moon Jacob, and the New Moon Alice!
Back in 2008, we did an interview with Robert Tonner, company founder, designer, and sculpter, to see what goes into the entire doll making process. Check out that interview here.