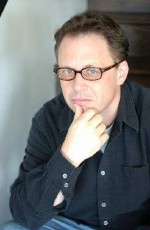 Baton Rouge businesses are looking forward to the economic boom that the filming of Breaking Dawn is likely to bring from those directly involved with the film to visitors hoping to catch a glimpse of their favorite actor.
According to the local ABC affiliate:
"For confidentiality reasons, we can't talk specifics about productions that we're dealing with," said Patrick Mulhearn, Director of Studio Operations at Celtic Studios.
"Well, there's not too much I can say about the details of 'Twilight,'" said Chris Stelly, Director of Film Industry Development with the Louisiana Economic Development.
While the movie's publicist will only say the "when" for production kickoff is late this fall, a commercial real estate agent says one of his lease properties is where pre-production is in full swing."
Both Melissa Rosenberg and Bill Condon(seen above) have been spotted in town from time to time. It's been widely publicized that actual filming will take place in November and principal photography might be slightly ahead of that schedule. The actual filming is likely to  be mostly indoors on a soundstage making getting a look at actual filming unlikely.
Similar secrecy surrounded Eclipse with only some outdoor scenes involving Xavier Samuel and Bryce Dallas Howard being spotted by fans waiting on sidelines.