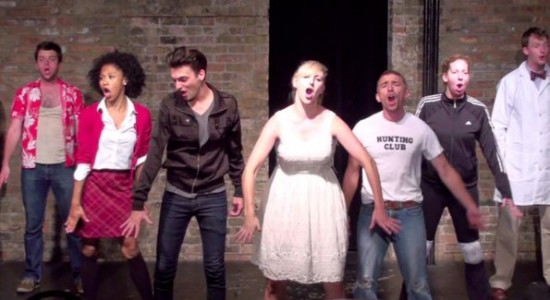 This is just sheer GENIUS! If we were in the Chicago area we'd be calling for tickets right now. You absolutely have to visit this website and see the video of "Don't Stop Bleeding"
The description from the Chicago AV Club is great, but the video does it more justice.
"The kids over at Gorilla Tango Theatre have really got their finger on the pulse with True Twilight: A Glee Club Musical, premièring Sept. 1. Combining all the best camp from True Blood, Twilight, Glee, and High School Musical, this play should hit the spot for any fangbanger, Gleek, or respectable adult woman who thinks Robert Pattinson is the cat's pajamas.
The plot's wacky, so hang in there: Suckie Stickhouse moves to Wiccan Park and finds herself torn asunder by two swarthy but boring dudes, Ted Mullen and Shirts On The Ground. While she hems and haws over the impossible choice, she bides her time by trying out for the local musical, where she draws the ire of Rachel Sharpay, town priss. Hijinks ensue, songs are sung, and somehow Bill Nye The Science Guy helps solve everyone's problems."
There's a really limited run on this show. Tickets are pretty resonable for live theater.

Gorilla Tango Theatre
1919 N Milwaukee Ave
Chicago, IL 60647
773-598-4549
Wed Sep 1 9:30 pm
Wed Sep 8 9:30 pm
Wed Sep 15 9:30 pm
Wed Sep 22 9:30 pm
$12 for Tickets