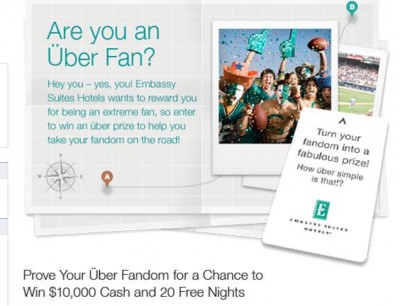 The PR Team at Embassy Suites just let us know about this one.
Embassy Suites Hotels is running a promotion called "Über Fan." Embassy Suites Hotels wants to find the ultimate über fan and help them take their passion on the road. So, let's say you've always wanted to visit Forks, the filming areas in Portland, or you might want to check out Louisiana and the upcoming filming areas down there, now is your chance.  You could even pick a Creation Entertainment Official Twilight Convention in an exotic destination like Hawaii and go there!
The prize is $10,000 cash, 20 free night stays at any Embassy Suites in the U.S. and an iPhone 4G! Check out the contest here: http://bit.ly/d3RG1o
To enter, fans just need to "like" Embassy Suites Hotels' official page, and submit their extreme fan photo and corresponding caption. The caption should tell  how taking your passion on the road with Embassy Suites (and that super sweet prize!) would help you go from a fan to an Über Fan.
Good luck! Knowing the passion of Twilight fans, we should rock this one!