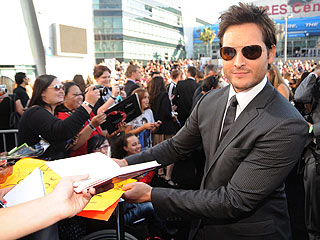 According to the Tom's of Maine  press release:
"To celebrate the launch of its new Wicked Fresh! ™ Toothpaste and Mouthwash line, natural personal care leader Tom's of Maine invites the public to chat live with four wickedly cool individuals who are pursuing their dreams while inspiring goodness in others.  The "Wicked Fresh! Wednesdays" free online chat series, hosted on the Tom's of Maine Facebook page, will air Wednesdays during the month of September and kicks off with actor Peter Facinelli of the "Twilight" series, followed by Mandy Gonzalez, star of "Wicked"  on Broadway, green-living expert Sophie Uliano and fashion designers Stewart+Brown.
The Wicked Fresh! chat series is a live Q&A for fans that will highlight the extraordinary careers of these engaging personalities who are merging success with good deeds:
Wednesday, September 1: Peter Facinelli – The talented actor known for his juicy roles as Dr. Carlisle Cullen in the Twilight series and Dr. Cooper on "Nurse Jackie" will give fans a peek into his life both on and off set and why he is passionate about Save the Whales, among other charities to which he lends his time and financial support.
"We like to celebrate individuals who are instrumental in driving social and environmental change be it within the company or the community at large," said Susan Dewhirst, goodness programs manager at Tom's of Maine. "Success isn't solely defined as a money-making endeavor, but rather as the nurturing and growth of human and natural capital. By participating in the Wicked Fresh! Wednesdays chat series, we hope our consumers will want to embark on their own inspired journeys."
Each Wednesday chat will run live for one hour from 8:00 p.m. to 9:00 p.m. EDT with the exception of Ms. Gonzalez which will air from 12:30 p.m. to 1:30 p.m. EDT. The chats are open to the general public and questions will be accepted prior to and during the chat session. To participate or submit a question, please visit www.facebook.com/TomsofMaine.
This chat series is part of the Tom's of Maine Wicked Fresh! nationwide launch, which also includes a unique partnership with the Tony Award-winning Broadway musical "Wicked." As part of a national "Wicked Fresh Moments" contest and Twitter sweepstakes, four grand prize winners and a guest will score an eco-friendly trip to New York City to see the acclaimed musical about the untold story of the witches of Oz, stay in a green certified hotel, and enjoy sustainable dining. For more details on how to enter and win, visit www.facebook.com/TomsofMaine. For more information on Wicked the Musical, go to www.wickedthemusical.com.
Wicked Fresh! is the first toothpaste to feature Tom's of Maine's patent-pending, flavorless botanical extract from licorice root combined with a punch of powerful natural mint flavor oils for refreshing taste that helps banish bad breath.  The toothpaste comes in a recyclable tube and is available in two flavors: Cool Peppermint and Spearmint Ice.  Wicked Fresh! Mouthwash, available in Cool Mountain Mint and Peppermint Wave flavors, has a compostable, tamperproof shrink-wrap and the bottle is made of PET and the cap is PP, so both can be recycled where facilities for these materials exist.
Tom's of Maine creates its products with goodness in mind for people and the planet and also contributes 10% of its profits back to human and environmental goodness programs in local communities."
So get on over to www.facebook.com/TomsofMaine to submit you questions for Peter!
Also for those of you in the Sandusky area,unrelated to this project,  Peter is scheduled to make a mall appearance in the Sandusky mall.