Hot Topic, one of the biggest retailers of Twilight Saga licensed gear is reporting a hefty loss: According to Business Week:
"Fashion retailer Hot Topic Inc. said Wednesday that its second-quarter loss nearly doubled from a year earlier and topped what Wall Street expected.
The company lost $6.3 million, or 14 cents a share, in the three months that ended July 31, compared with a loss of $3.2 million, or 7 cents a share, a year earlier.
Quarterly revenue dropped 5 percent to $150 million from $157.8 million in the previous year. Sales at stores open at least a year fell 6.4 percent."
Previously, Hot Topic sales were notably boosted in an otherwise lackluster economy by  Twilight, but once New Moon rolled around there were a lot more vendors in the market, notably Walmart, and things we're the same.
Now this next part isn't very scientific, but it's based on our observations on fandom dress, tweets and emails,and our own general impressions. For New Moon there was a solid six month roll out in Twilight Saga gear starting just after Comic Con footage debuted, through the New Moon release, and well into Christmas. There was lots of hype and PR. Everyone wanted New Moon gear and there were lots of places to get it.
For Eclipse, we barely noticed when the new merch came out in mid-May, and as of today there's barely three pages still being shown. In general, for Eclipse, there was no months in advance, huge fanfare on merchandise or anything else for that matter. Given how there were no set visits by any outlet (fan or professional) no one had anything to talk about, other than pure conjecture,  to build the buzz. By the time Mid May hit there finally was actual PR with the actors and any merchandise literally got Eclipsed by the actual stars.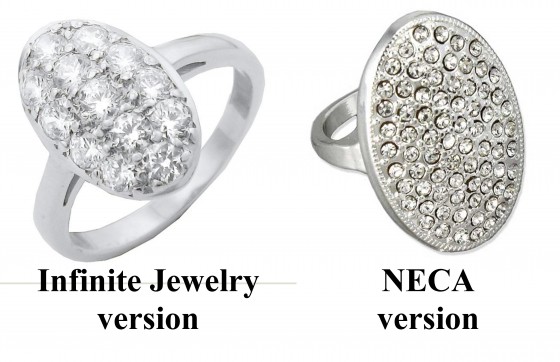 For Eclipse, in our opinion, not many things really that had that "wow factor".  We've seen lots of fans at conventions, and most aren't coming in wearing Eclipse shirts. Frequently they'll buy something on site, but they didn't have it ahead of time. Most are wearing New Moon merchandise or things they've made on their own or gotten at CafePress. Plus, the economy being what it is, buying more Twilight merchandise may not be realistic for many people.
There are two items we think that should have been a run away hit don't seem to be making a dent on the convention circuit either, and that's the Bella's bracelet and Bella's engagement ring.  We haven't seen lots of folks decked out in the Bella NCEA jewelry. Now we'll admit we are kind of biased. We prefer the version that was made by Infinite Jewelry that Stephenie Meyer had a direct hand in rather than the ones produced by NECA and sold via Hot Topic and other places like Amazon. Take the ring for example. For relatively the same price you can have something designed by Stephenie Meyer that is impressive without being HUGE, with quality, sizable stones and have an option to upgrade into real gold or real stones.  On the NCEA version (see side by side comparison above) you have a ring that is really wide and takes up the space from the bottom of your hand to your knuckle, doesn't have a yellow gold option, and as one of our readers put it "It looks like a shower head".
So as a potential buyer of Twilight gear, what's your take? What products do you have? What products do you wish were available, and what do you think accounts for the sales dip? Who knows, maybe some buyers will read this and gain consumer insight.