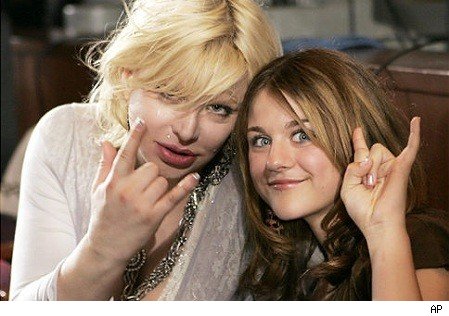 We are fairly sure this goes in the "consider the source and take it with a grain of salt" pile since Courtney wasn't exactly close to her daughter at the time of the Twilight casting and was doing a lot of communication with her up until recently via Twitter. It also didn't seem to come up in conversation as you'd think it would back when Courtney was trying to set Francis up with Robert Pattinson for a date roughly 18 months ago.
Nonetheless, Cinematical is reporting that Courtney Love is claiming that her daughter, Francis Bean Cobain, was up for both the parts of Bella in Twilight and Alice in Alice in Wonderland.
"Fair warning to anyone who carries a microphone around with them all day long: avoid Courtney Love. Seems that the consistently annoying widow of Nirvana rocker Kurt Cobain was recently greeted by someone holding a microphone, and this is what she had to say about her 20-year-old daughter:
"Frances is so beautiful, but she doesn't want to be famous. She was offered the part of Bella in the Twilight movies, and Tim Burton wanted her for Alice in Wonderland. But she wants to go to college — she's very good at graphic novels… Frances will be fine."
See the rest at Cinematical. We are going to the Portland Twilight Convention where Catherine Hardwicke is among the presenters. If we are lucky, maybe we can get Catherine to dish on who else was up for Bella. At one of her convention appearances we got her to give up the names of the Edward possibles who didn't make it (Jackson Rathbone, Ben Barnes, and Shiloh Fernandez).