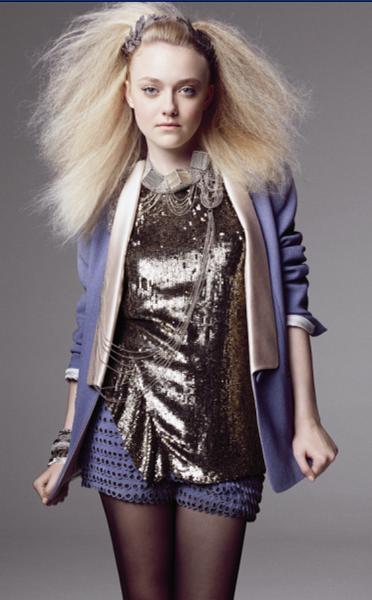 Dakota Fanning is on the cover of Marie Claire.  Dakota, who just took the SAT and ACT, is now making the jump from child to adult actor. In fact she missed the Eclipse press junket in the USA because she was taking her ACTs. At the same time she seems to have avoided a path of a party lifestyle that plagues so many young actors.
"She talks about her kiss with Kristen Stewart in The Runaways: " It's out of the way, and it was with my friend and a girl – no pressure," Fanning tells me, smiling and pinkening slightly. "It was not something Cherie [Currie] and Joan [Jett] ever really spoke about, and that's how it was filmed – as not that big of a deal."
"When you start out young, people get really attached to who you are at 6 years old," Fanning says. " I hope that The Runaways was kind of a moment to be like, 'You know, I'm not that young little girl anymore, but I'm still not all grown up, either."
See more on Marie Claire.