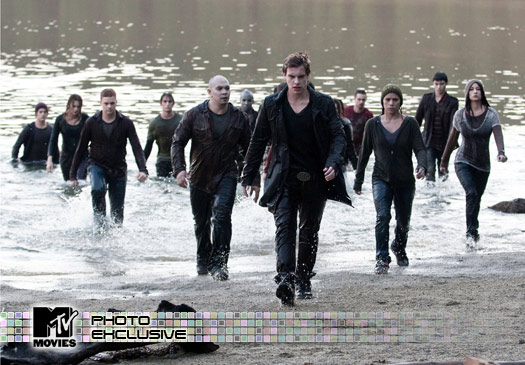 I feel like I am living in some kind of weird alternative universe here. First The Hollywood reporter gives a positive review to Eclipse, and now Variety has done the same! Someone pinch me, because I swear I'm hallucinating!
"Taking a cue from the "Harry Potter" series, which maintains continuity on the writing and casting fronts while introducing a different feel with each change of director, the "Twilight" producers have embraced a variety of different visions behind the camera. Capitalizing on her indie sensibility and keenly observed teen insights, Catherine Hardwicke set the tone with the low-budget first film, with Chris Weitz expanding (and flattening) the world with his broader, daytime soap-opera style in "New Moon." Now, the task falls to Slade, who clearly understands how to work with actors while also demonstrating a welcome competence in the action and melodrama departments.
It's no easy task taking a piece of material auds already know inside-out and spinning it in such a way that individual scenes still generate tension and suspense. Slade sets us on edge from the outset with an atmospheric vignette merely alluded to in the book, as small-town boy Riley (Xavier Samuel) is ambushed and bitten by an unseen vampire in shadowy Seattle (looking every bit as ominous as Tim Burton's Gotham City).
Slade and screenwriter Melissa Rosenberg wisely intercut these puppy-love scenes with uneasy horror-movie jolts. After all, "Eclipse" builds not to a showdown between Edward and Jacob (no matter how often he takes off his shirt, the poor wolfboy will never be Bella's first choice), but to an uneasy alliance between the Cullen clan and Jacob's tribe of shape-shifters, united to protect Bella from the vengeance-seeking Victoria (Bryce Dallas Howard, taking over the role from Rachelle Lefevre) and her army of "newborns," undisciplined but super-strong new vampires."
Read more on Variety (be warned obviously as a review it does cite some film specifics).