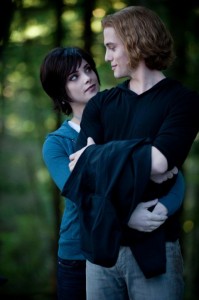 Fandango's Scott Huver, who last interviewed Ashley Greene back before Twilight came out, had another chance to speak with her.
With her on-screen pixie-cut wig nowhere in sight, Green's long, newly lightened locks cascade about her face as she considers what lies beyond her star-making stint in the mega-present Twilight films. The Eclipse actress exudes so much poised confidence and eagerness to dive into the next phase of her career that you can't help but wonder if she, like the prescient Alice, has some tantalizing foreknowledge of momentous events around the corner.
Already a favorite of fashion magazines, boy bloggers and, of course, the Twihards, Greene talks to us about lending Alice some Ashley-ness, the fan encounters that mean the most to her, and gives us a glimpse of the game plan after the sun sets on the film franchise. Frankly, we're inclined to believe her vision.
Fandango: I remember back when we met for the first Twilight film, and you talking about loving the character and doing her justice for the fans. How much of the character is yours now, three films in?
Ashley Greene: In general I always try to break characters down in the most basic form, being a human being – or having human characteristics, in Alice's case. So if I've experienced anything in my life that is similar to them, I try to connect to that and I really kind of become this character.
With Alice, I definitely tried to stay optimistic like she does. And of course I love fashion! She loves fashion. For the family aspect of it, I'm extremely close to my family, as is she. So that was an easy connection. It wasn't that big of a stretch. If someone messes with Alice's family she'll go to bat for them, and I'm the same way for my family."
See more on Fandango