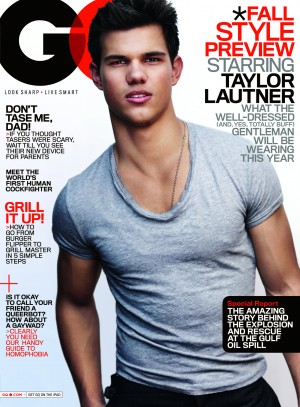 Taylor Lautner will be on the cover of GQ for the June 22 issue.  The interview covers Taylor's thoughts on the fandom and fame as well as what it was like for him to have to re-audition for the role for New Moon.
"I'm in the gym, and I'm doing reps, and I'm reading the books, and I'm studying the character. I'm just saying to myself, 'I want this role. I love this role. I'm not gonna lose it. And I'm gonna know it better than anybody, and I'm gonna do that extra
rep, because I'm gonna be Jacob Black.' "
He even talks about presenting with Kristen Stewart at the Oscars.
"I would have passed out if she wasn't there!" Lautner says. "You're looking down and you're talking to George Clooney, Leonardo DiCaprio—and they're listening to you!"
Read the full interview at GQ. Com