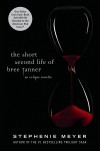 Yesterday we reported how The Short Second Life of Bree Tanner rocketed to the top of the UK sales charts. Today, USA Today is reporting the same thing.
USA Today along with the Wall Street Journal, The New York Times, and Publishers Weekly are the premier lists that booksellers want their products to appear on.  Publishers Weekly and The New York Times subdivide their lists into various subcategories whereas USA Today and the Wall Street Journal throw everybody in together.   What often happens, is that it's very hard to tell how a book is really doing via the New York Times lists (there are over 30 subcategories) and Publishers Weekly (they don't rate children's/teen books).  In fact the New York Times subdivided its list as a direct response to the Harry Potter books clogging the top spots for over a year. On the other hand you can really see the domination of YA material on the USA Today and Wall Street Journal lists.  Last year the Twilight Saga, the Whimpy Kid Series, and the Hunger Games series dominated those lists for weeks.
USA Today published the following today:
"'Bree' rules: Like Eclipse and Breaking Dawn, Books 3 and 4 in Stephenie Meyer's Twilight saga, The Short Second Life of Bree Tanner: An Eclipse Novella enters USA TODAY's Best-Selling Books list in the top spot. The big difference? Fans had a choice: Buy the book, which went on sale Saturday, or read it for free through July 5 at breetanner.com. Little, Brown reports 350,000 copies were sold in the USA in the book's first 48 hours on sale; 15,000 have read it online so far. "Given all the time in the world … I could write a short story for every one of my characters," Meyer says."
You can check out the USA Today top 150 list here.
Here are where the Twilight Saga books currently rank:
1.   The Short Second Life of Bree Tanner
9.   Eclipse
37.  Breaking Dawn
54.  Twilight
65.  New Moon