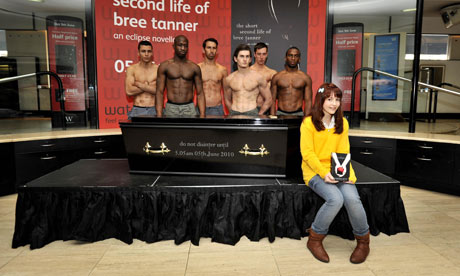 According to the UK newspaper The Guardian,
"Meyer's The Short Second Life of Bree Tanner, told from the perspective of a newly created vampire, was published in the UK at 5.05am on 5 June and went on to sell almost 90,000 copies that day – taking the number one slot "by a hefty margin", according to book sales monitor Nielsen BookScan. This is despite Meyer making the book available for free online until 5 July.
"People were queuing at our Milton Keynes branch from 4.30am," said Waterstone's spokesman Jon Howells. Copies of the strictly-embargoed book were delivered to Waterstone's Piccadilly branch in a coffin.
"It's our fastest-selling book so far this year and it may be the fastest-selling book of the year … it will be pretty tough to beat it," Howells said. "It's our biggest book since Dan Brown's The Lost Symbol. Offering it online for free is a nice touch [but] I don't think it's a big deal. Pretty much every Twilight fan will want not just to read it, but also to own it. It's shaping up to be a big 'un."
Pictured above is Heloise Devaux who won a competition to receive the book first at the flagship Waterstone's store. Photo credit: Tim Ireland/PA
The New York Times Bestseller list that The Second Short Life of Bree Tanner qualifies for won't be out until June 20. There is always a two-week lag between release and tracking for that list.  Other noted lists like The Wall street journal and USA today should be available next week.
See the full story on The Guardian.