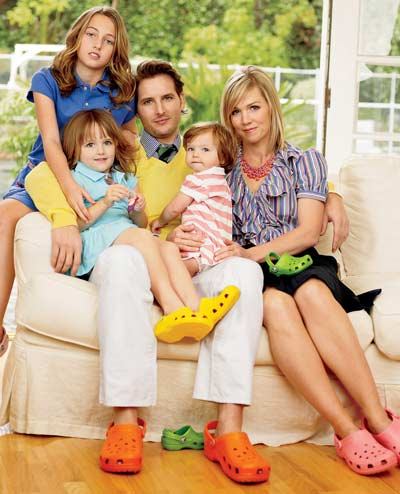 According to the group's press release:
'The Procter & Gamble Company's (NYSE: PG) Bounty® brand is teaming up with husband-and-wife duo Peter Facinelli and Jennie Garth, along with dozens of local Los Angeles-area volunteers from HandsOn Network and Rush Philanthropic Arts Foundation today to "Make a Clean Difference" at Los Angeles' Kingsley Elementary School. Answering the call from President Obama for Americans to volunteer in the community, Bounty's "Make a Clean Difference" program is uniting more than 1,000 volunteers to transform the learning environments of 30 public schools in 10 cities across the country.
"Twilight"-saga star Peter Facinelli and "90210's" Jennie Garth are leading the team of community volunteers in tackling everything from lending extra hands to spruce up classrooms with a fresh coat of paint to planting flowers and gardening outdoor areas.
"Jennie and I are thrilled to be here in Los Angeles to join Bounty and all of the volunteers who have given their time today to truly make a difference in the lives of these young students," said Peter Facinelli. "As parents of three daughters, we understand the importance of inspiring children in the classroom, and we are happy to be part of a program committed to improving their learning potential."
Intended to encourage continued creativity in the classroom, Rush Philanthropic's teaching artist volunteers also created a special mural that will remain on display at the school. Additional Los Angeles schools receiving a helping-hand from community volunteers include Aragon Elementary and Loreto Elementary on June 12.
The program, announced by Gabrielle Union at the Points of Light Institute and ServiceNation reception celebrating National Volunteer Week in Washington, D.C. on April 20, encourages local community volunteers to join Bounty in its commitment to help maintain the learning environments of schools across the country by getting them "Bounty clean."
"We are thrilled to see the impact the volunteers have made here at Kingsley Elementary in Los Angeles today and pleased to provide a clean learning environment for students to unlock their creativity and curiosity," said Dave Lee, Procter & Gamble North American Bounty Brand Manager. "We believe that messes should never get in the way of hands-on activity and learning and are pleased to have this opportunity to provide Kingsley with a fresh start for the next school year as this one winds down."
Maintaining clean learning environments and providing volunteer services are the crux of Bounty's "Make a Clean Difference" program. Research shows a link between the cleanliness of school facilities and students' academic achievements, yet, 25 percent of all schools report at least one on-site building in less than adequate condition.(1),(2) Additionally, less than 33 percent of schools provide students with opportunities to bring learning to life through community service.(3)
In addition to Los Angeles, Bounty's "Make a Clean Difference" program is impacting 30 public schools in the following cities from April through June: Atlanta, GA; Boston, MA; Charlotte, NC; Cincinnati, OH; Dallas, TX; Miami, FL; Minneapolis, MN; New York, NY; and Seattle, WA. For more information, visit www.facebook.com/bounty."