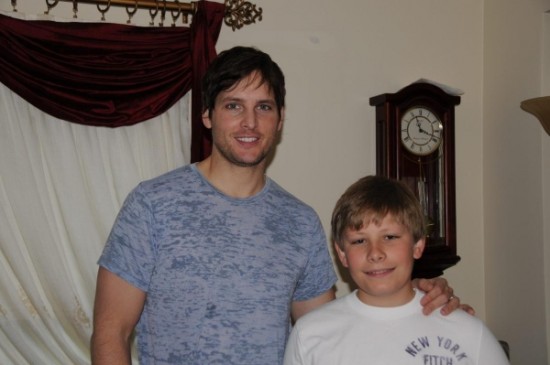 Pel love's this story. It reminded her of her childhood on Long Island. The main paper of Long Island is Newsday, and back in the late 70's they launched a feature where kids were reporters on various subjects and they had a section each week called Kidsday.  Well, now a Kidsday reporter,Matthew Cebulski, landed an interview with Peter Facinelli!
"What made you want to take a part in the "Twilight" series?
When I first got the call about doing a vampire movie I wasn't that excited. I was thinking it was going to be some kind of blood and guts horror film. But then I read the book, and I fell in love with it. I loved how it mixed this Romeo and Juliet love story with the folklore of the vampire tale.
Which one of the "Twilight" movies did you enjoy working in the most?
I enjoyed working on "Eclipse" the most because I got to do action, and the action stuff was a lot of fun. "Eclipse" is also my favorite book.
Was it difficult acting blind in the movie "Touch the Top of the World"?
I had them make contact lenses so that I actually was blind when I shot the movie. I felt like having to play blind all the time would be distracting, and I wanted to experience what Erik Weihenmayer had to experience on a daily basis. At the end of the day I wanted to focus my attention on who Erik was. Being blind isn't who Erik is, it is just a physical attribute, and in the end something he had to overcome. So having the lenses not only gave me a fuller experience as to what Erik had to go through, but, it allowed me to put my focus on Erik's persona."
Read the rest of Matthew Cebulski's interview here. A huge congrats to Matthew who asked better questions than a lot of adult reporters!