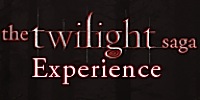 AMC Theatres has a special Twilight Saga Experience for fans wanting to see all three films. Starting at 6:30pm on June 29th, AMC will be presenting all 3 Twilight films back-to-back-to-back ending with the 12:01am screening of Eclipse.
For a single $30 ticket attendees will receive:
1) Admission to "Twilight"
2) Admission to "The Twilight Saga: New Moon"
3) Admission to "The Twilight Saga: Eclipse"
4) A $10 AMC gift card that you can use at any time (even on concession stands)
5) A collectible Twilight lanyard (while supplies last)
This event is for one night only and tickets are sure to sell out fast. For more information, visit AMC's website for details. To find if an AMC theatre near you is offering this experience, type in your zip code at the following link.