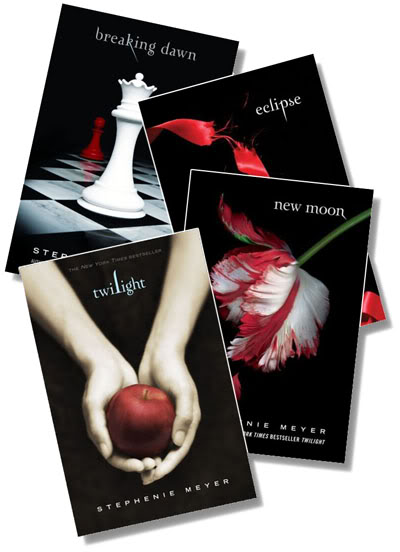 According to Lagarder, the parent comply of Hachette & Little Brown, Twilight sales have finally reached a plateau of sorts. According to an article in The Book Seller:
"Lagardère Pubishing saw a 6.5% decline in revenues for the first quarter of 2010, with sales down from €30m to €433m for the period to end-March 2010 after what it described as "the expected erosion in Stephenie Meyer sales".
Hachette UK said its sales had been "strong" in the first quarter of 2010, with underlying sales across HUK up on 2009 and "considerably ahead of expectation". This was despite continuing international economic uncertainty, and a fall of 6% in the overall UK market. Hachette UK added that "inevitably, sales of Stephenie Meyer's backlist have steadied after their phenomenal performance in 2010".
Business Week is also reporting on the trend.
"Lagardere last year benefitted from the success of Meyer's vampire-themed "Twilight" novels, published by its Hachette Book Group unit. In 2010 guidance issued in March, the company said its publishing division would see a "return to normal" after brisk sales of "Twilight" books and related products.
Last month, the company fought off a challenge from American activist shareholder Guy Wyser-Pratte, who sought a board seat to force a "strategic review" and changes to a corporate structure that gives Arnaud Lagardere extra powers."
You can see a bit of the trend on this week's New York Times Bestseller Lists. The Twilight Graphic novel is in second position in its category(graphic books). The Twilight Saga books are in forth in their category (Children's series: note there is no YA distinction) behind the House of Night series, Percy Jackson, and Diary of a Whimpy Kid. It should also be noted that The Host paperback edition is in fifth place in its category. So while not gone from the lists, the books do not have their previous stranglehold on the top spots in all categories.
What will really be interesting to watch is how well the Bree Tanner novella performs when it goes on sale June 5th. It will mark the first time any new Twilight specific information has come out in almost two years. How many people will opt for a hardcover version vs. how many people will want the PDF free version.