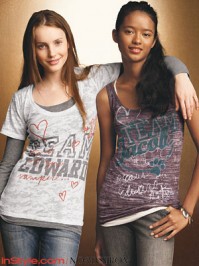 Nordstrom jumped on the Twilight apparel craze in time for New Moon, and they are apparently sticking with it for Eclipse. According to Styleite:
"Starting on May 15th and in honor of the third installment of the Twilight series, Nordstrom's will once again sell exclusive clothing inspired by the ladies of the series. According to WWD, "lace trim tops, miniskirts, striped and floral dresses, skinny jeans, cardigans and a plaid jacket" will go on sale, all quoting Bella and Alice's style.
The collection, which will range from from $30 to $58, marks the department store's second time teaming up with Summit Entertainment and Awake Inc. to cash in on the Twilight-craze.
And for those of you who feel wearing a Bella-style tee shirt isn't enough to express your Twi-love, Nordstrom's will also be selling life-size cardboard cutouts of the main characters for $33."
Read the rest on Styleite.