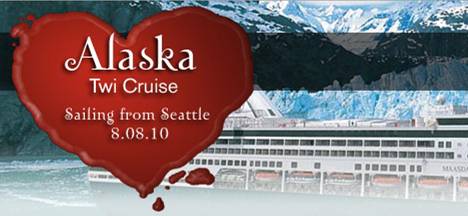 Cruise Critic is an online cruise guide that offers comprehensive resource for cruise travelers, from first-time cruisers to avid cruisers features professional reviews and member reviews of more than 350 ships and hosts an active community where travelers share experiences and opinions with fellow cruisers. They just put out a press release covering what they consider to be the best vampire themed cruises out there.
______________________________________
Special-interest cruises, known as theme cruises, are the ideal way to get up-close and personal with your favorite celebs, or enjoy leisurely vacations at sea while pursuing interests in everything from Harley-Davidson motorcycles, to "Twilight." Even musicians, soap stars, sports legends, celebrity chefs and politicians are hosting theme cruises. However, one particular group of fans — vampire fans — has really gotten its teeth into cruising.
This year's big ticket will be The Alaska Twilight Cruise and Convention, where fans of the Twilight saga vampire books and movies will be able to meet stars of the movie during a weeklong fan fest. Team Edward and Team Jacob — the names given to fans who favor either of the two main characters — unite for this cruise on Holland America's Oosterdam, August 8-15, 2010.
Vampire-related theme cruises began in 2007 with the Slayer Cruise, which hosted actors from "Buffy the Vampire Slayer" and "Angel" and, earlier this year, the Fangs and Fur Cruise, featuring screen writer Judy Burns, celebrated popular vampire books and movies — including "True Blood," "The Vampire Diaries," "Twilight," and "Dracula."
Here at Cruise Critic(R) (http://www.cruisecritic.com) — the cruise reviews and news site — we have put together our list of the best cruises for vampire-lovers.
Cruise Critic's Best Cruises for Vampires (and Their Fans)
Join The Alaska Twilight Cruise and Convention at Sea
Passengers will be able to meet stars from the movies — including Alex Meraz (who played Paul in "Twilight"), Michael Welch (Mike Newton in "New Moon") and Jodelle Ferland (Bree in the forthcoming movie "Eclipse") — pose for photos with the celebs and enjoy themed activities like a costume ball. The cruise operator even offers an additional three-day tour to Forks, Washington, where the story is set, before the Twilight cruise sets sail.
Take a River Cruise to Romania, and Visit Dracula's Castle in Transylvania
Forget the fictional variety, and hunt for "real" vampires on a trip to Transylvania. Take an Eastern European river cruise into Romania with Viking River Cruises' Eastern European Odyssey River Cruise, and add on a trip to Brasov for a tour of "Dracula's Castle," actually Bram Castle, which once belonged to Vlad the Impaler.
Visit Vampire-Friendly New Orleans
Home of Anne Rice — author of the "Vampire Chronicles" — and the setting for much of "Interview with the Vampire," New Orleans embraces its vampire heritage with tours and tales galore. Vampire fans can add on a few days' stay in New Orleans before or after embarking on a Caribbean cruise from the port. British cruise line P&O offers a 30-night cruise on Aurora, taking in 11 ports in eight countries, including a stop in New Orleans.
Join the Annual Gothic Cruise and Masquerade Ball
Referred to simply as the Gothic Cruise (for brevity), this cruise is for fans of goth and industrial music and has been held annually for the past 15 years. Taking place on Carnival Liberty in September, the Gothic Cruise is not vampire-themed, per se. But, because there's a particular affinity for vampires among goth fans, and the typical formalwear on the cruise is Victorian style, we think vampires would enjoy this cruise.
For more information on theme cruises please visit: http://www.cruisecritic.com/articles.cfm?ID=349