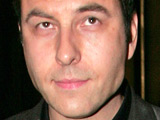 So this headline came up today: "David Walliams of Little Britain Fame to Audition for Breaking Dawn". It all stems from an article in the UK TY Tabloid The Sun.
According to that article: "'They [a nameless source] thought him suitable when they saw him play the evil charmer in the drama Capturing Mary.'
We're going to say that this is either an April Fools joke run late,  a joking off-hand comment taken out of context, or just a total fabrication. The reason being is that Melissa Rosenberg is still working on the script and, more importantly, there is NO DIRECTOR signed.  So, unless we hear otherwise from a source more reliable than The Sun, we are going to toss this into the complete rumor bin.