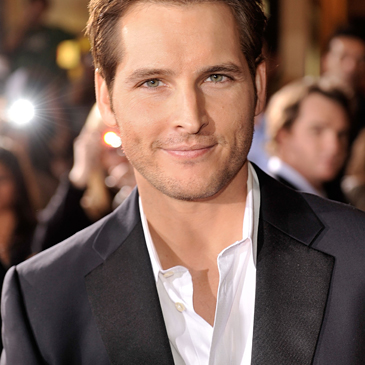 According to the group's press release:
The Academy of Television Arts & Sciences Foundation announced today a slate of celebrity presenters for the upcoming 31st College Television Awards.  This year, more than 600 students from 156 schools across 38 states entered the competition.  Of this group, 24 projects across 11 categories will be honored at the gala ceremony hosted, for the 4th consecutive year, by Tom Bergeron ("Dancing with the Stars") on April 10th at the Renaissance Hotel in Hollywood.
Presenters at the ceremony include a long list of television stars: Paris Barclay ("In Treatment"), Yvette Nicole Brown ("Community"), Ty Burrell ("Modern Family"), Chris Colfer ("Glee"), Peter Facinelli ("Twilight," "Nurse Jackie"), Hill Harper ("CSI: NY"), Pat Harvey ("KCAL 9 News"), Gillian Jacobs ("Community"), Tim Kang ("The Mentalist"), Benito Martinez ("The Sheild"), Kelly Osbourne, Jim Parsons ("The Big Bang Theory"), Busy Philipps ("Cougar Town"), Amanda Righetti ("The Mentalist"), Kerr Smith ("Life Unexpected"), Jon Tenney ("The Closer") and the cast of the MTV's "The Buried Life."
Television producer, philanthropist and disability rights activist Loreen Arbus, and television star Robert David Hall ("CSI: Crime Scene Investigation") will present the Loreen Arbus Focus on Disability Scholarships, which focus on the needs, achievements and contributions of people with disabilities. Loreen Arbus, the first woman television executive in America to head up programming at a major network (Showtime and Lifetime), is committed to heightening awareness and support of people with disabilities through this scholarship program and her work with United Cerebral Palsy, the organization co-founded by her parents, Isabelle and Leonard H. Goldenson, Founder/Chairman, ABC.
"The College Television Awards has become a tremendous vehicle for spotting new talent in the industry," said Television Academy Foundation Executive Director Terri Clark.   "We're thrilled that such an accomplished group of presenters will join us in honoring the next generation of television industry leaders."
In addition to honoring student work, the College Television Awards gala is an opportunity for this talented group of students, and soon-to-be industry professionals, to meet and network with high-level Hollywood decision-makers.  Past winners' work has caught the attention of top Hollywood executives and kick-started careers.  Shane Acker's College Television Award-winning short film "9" was later produced into a full length film by Tim Burton.  Jorge Gutierrez's "El Tigre: The Adventures of Manny Rivera" was picked up by Nickelodeon and went on to win an Emmy.
The College Television Awards recognizes excellence in undergraduate and graduate student work in the areas of video, digital production and film production by students around the country.  The awards honor work in 11 categories including: Animation, Children, Comedy, Commercial, Documentary, Drama, Magazine, Music Composition and Music Best Use, Newscast and Narrative Series.  Information on how to purchase tickets to the College Television Awards can be found on the Academy of Television Arts & Sciences Foundation website.  Winners' work will be showcased at a special screening hosted by Kevin Frazier ("Entertainment Tonight") on Sunday April 11th at the Foundation's Leonard H. Goldenson Theatre adjacent to the Television Academy in North Hollywood.