There are various write in campaigns going on for the MTV movie awards. We think we have them all compiled below, but if we missed one, please speak up in the comments!  Basically this year MTV included a provision for fans to write in a candidate if their favorite was missing in that slot, so here's what we have so far: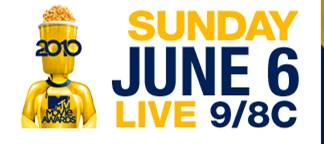 Breakthrough Female Performance: Ashley Greene as Alice.
Breakthrough Male Performance: Taylor Lautner, but there is some question that he might not be eligible because he was nominated in that role last year.
Best Villain: Rachelle LeFevre, Michael Sheen, Dakota Fanning. However maybe pick the first one so as not to split the vote!
Best Fight: Daniel Cudmore and Robert Pattinson, Edi Gathegi and the wolfpack.
So get over to MTV and get voting! TY to everyone who wrote in about reminding people about this feature especially Megan from the Because I Read Twilight I Have Unrealistic Expectations In Men facebook group.