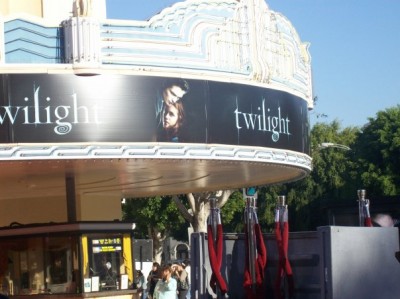 According to The Hollywood Reporter the classic art deco theaters that are across the street from each other have been saved from closure. The theaters are home to multiple premieres and can each seat well over 1,000 patrons. Twilight Saga movie fans know them because the redcarpet for both Twilight and New Moon took up almost the entire city block that runs between the theaters.
"The landmark mono-screens in L.A.'s Westwood section — founded in 1931 and 1937, respectively — have been operated for the past few decades by Mann Theatres, which had tagged them for closure. But regional theater operator Regency Theatres said Tuesday that it has agreed to take over the properties on unspecified terms starting Thursday.
Mann's lease on the theaters expires Wednesday, though the circuit intended to continue to operate the venues on a month-to-month basis.
"We are excited to be adding the iconic Village and Bruin theaters to the Regency family of theaters," Regency president Lyndon Golin said. "These celebrated movie houses have been landmarks in Los Angeles since the 1930s, and we plan to extend their legacy far into the future."'
See more at the Hollywood Reporter.
There is no word on whether the Eclipse premiere is taking place at these theaters, or the date of the premiere. Given that up until today they were slated for closure, it would not surprise us if another venue has been sought for the Eclipse premiere.