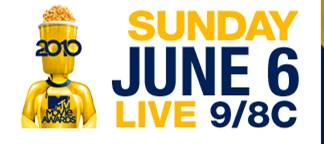 Voting for the annual MTV movie awards starts today at noon. Last year Twilight pretty much walked away with it all. The only categories where Twilight didn't come out on top were in the Best Song From a Movie category where Miley Cyrus beat out Paramore , and Breakthrough Male Performance where Robert Pattinson beat out fellow nominee Taylor Lautner.
Here are our predictions of who is going to get nominated let's see if we are right at noon today.
Best Movie: New Moon
Best Female Performance: Kristen Stewart
Best Male Performance: Robert Pattinson and Taylor Lautner
Breakthrough Female Performance: Ashley Greene
Breakthrough Male Performance: Taylor Lautner
Best Villain: Michael Sheen and Dakota Fanning
Best Kiss: Robert Pattinson and Kristen Stewart
Best Fight: Daniel Cudmore and Robert Pattinson and Jackson Rathbone and Robert Pattinson
Best WTF Moment: The Edward and Bella the Alice vision
Best Song: Lykki Li-Possibility
TY to Novel Novice for reminding us that this started today!