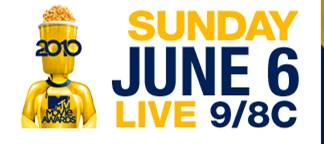 Voting for the annual MTV movie awards has begun. This year in addition to the standard categories, MTV has added three new categories: Global Superstar, Best Ass-Kicking Star and Best Scared-as-Sh– Performance.
Here's how the nominations panned out. We think we did pretty well on our predictions! BUT we think we can do better by using the write in feature that comes at the bottom of each category!
Best Movie: New Moon
Best Female Performance: Kristen Stewart (competing against herself in New Moon and The Runaways, and Dakota is nominated for The Runaways.)
Best Male Performance: Taylor Lautner (with competition from Rob in Remember Me,  well…this is going to be interesting.)
Breakthrough Female Performance: Woo Hoo! Go Anna Kendrick for Up In the Air!
Breakthrough Male Performance: Taylor Lautner is not there? Is it because they put him in last year against Robert Pattinson? Time to use that write in feature!
Best Villain: Neither Michael Sheen nor Dakota Fanning made it. Time to use that write in feature, again!
Best Kiss: Robert Pattinson and Kristen Stewart (However competition from Dakota and Kristen in The Runaways, Rob and Emilie in Remember Me, and Taylor and Taylor in Valentine's Day)
Best Fight: WOAH! Daniel Cudmore and Robert Pattinson didn't make it. Time to use that write in feature one more time!
Best Ass Kicking Star: Daniel Cudmore could use a little love here, use that write in in this new category!
Best Global Superstar: Kristen Stewart, Taylor Lautner, and Robert Pattinson (Holy Way To Split The Vote, Batman!)
Best Song: In a shocker move, the category is eliminated!