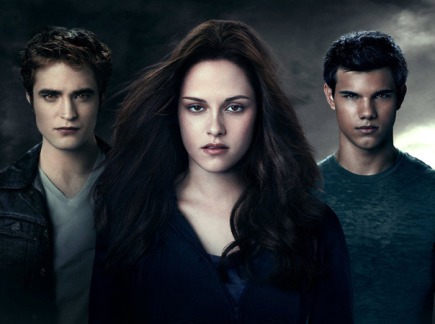 So far the Twilight Saga movies are on the rise. New Moon beat Twilight's box office total in under 14 days, but what will happen with Eclipse? Frequently, franchise movies aren't on a constant build. For example the Harry Potter movies have had their ups and downs. Harry Potter and the Socerer's Stone, the initial movie in the series, remains the best selling Potter movie followed by Half-Blood Prince and Order of the Phoenix. The Prisoner of Azkaban, third in the series, is the least successful at the box office.
Hit Fix examines the possibilities:
"One of the films expected to battle for the summer box office crown or at least place in the top five is the third "Twilight" feature, "The Twilight Saga: Eclipse."  The second installment, "New Moon," broke the single day all-time opening record with $72 million, is currently the third biggest 3-day opening of all time with $142 million and ended up with $296 million domestic and $707 million worldwide.  And that was all in November when many of the franchise's younger fans had school on Friday (although let's assume many of them cut out early).  "Eclipse's" June 30 release should find those young tween girls out of school and flocking to the theater. Adding more intrigue to the box office gross is that "Eclipse" will also be released in IMAX theaters which feature higher ticket prices.  So, a larger opening weekend is guaranteed right?  No doubt, but what happens after that?"
So what do you think?  In our experience, Eclipse tends be the favorite book of many fans of the  series.  It certainly ranks as the favorite book of many of the actors. Will that fuel the box office?