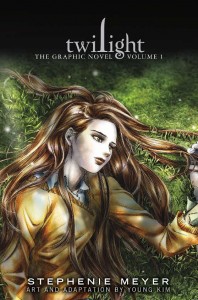 A fast look at Amazon.com and the Twilight Graphic novel is in (at the time of this post) the number 1 position in all three graphic novel tracking categories and is in the top 30 books being sold on Amazon overall. At our podcast in New York on Friday we did a little informal poll to see what the interest was. The audience was pretty even among those who were getting it no matter what, maybe getting it after looking at it, and not getting it because graphic novels aren't their thing.
Many people after the podcast came up to look at our sample, and we saw it in quite a lot of people's hands as they lined up for their DVD at midnight. Most were struck by the artwork's depth. Manga in style, but not so far into the genre that the characters looked too cartoonish: no overly heavy eyebrows, neon primary colors, or eyes the size of dinner plates here.
It's a sales first for a graphic novel on many levels according to The Advertiser
"The 350,000 first printing is believed to be the biggest for any graphic novel in the U.S. market.
Because of the original Twilight novel's length, the graphic novel will be published in two volumes. No date has been announced for the second. Nor is there any word on whether the last three books in the series will be adapted to the format.
The hardcover book, illustrated and adapted by South Korean artist Young Kim, was created with author Meyer's oversight.
"When it comes to really seeing Stephenie Meyer's personal vision of the Twilight property, this is as close an opportunity there is to accomplishing that," said Yen's Kurt Hassler. "Stephenie was very specific and has very clear images of what the characters look like in her head."
So, did you get the graphic novel, why or why not, and if so what do you think?