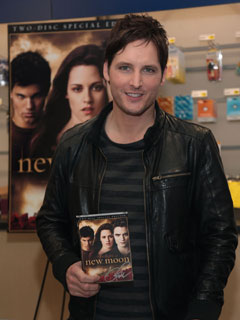 EW covered Peter Facinelli's appearance at the New York Best Buy for the New Moon DVD release.
"The first 50 fans in line get to come in for a quick trivia session. Facinelli asks the questions, and looks like he's having a great time. The questions are mostly softballs, like "The Wolf Pack kills which nomad vampire?" Everyone answers every question correctly…except for one unlucky girl, who claims Jacob's wolf fur is Chocolate Brown. (As we all know, it's actually Rusty Brown.)
"Get her out of here," Facinelli jokes.
"I'm Team Carlisle," she says.
"She can stay!"
When the trivia portion of the night ends, Facinelli goes behind the Best Buy counter and pretends to be a cashier, as the fans walk up one by one to get their DVD. On multiple occasions, after signing the DVD he'll say, "Thank you for shopping at Best Buy." It's pretty funny every time he says it."

Peter Facinelli @ Best Buy NYC Trivia Question
Uploaded by freaky_devil. – Videos of family and friends from around the world. video via twilight cullens

Peter Facinelli @ Best Buy NYC- New Moon Dvd Release Party
Uploaded by freaky_devil. – Explore more family videos.