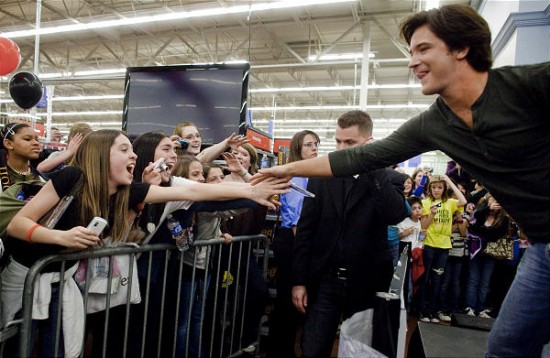 The Deseret News has an account of the Salt Lake City DVD Release and a FABULOUS quote from Mike Welch.
"Three of the cast members slated to make an appearance, Justin Chon (Eric), Michael Welch (Mike) and Christian Serratos (Angela), said they expected the chaos that comes with the supernatural series.
"I would be, frankly, surprised if the DVD release wasn't just as crazy as every other part of this franchise," Welch said. "When the books come out it's a crazy thing, when the movie comes out it's a crazy thing, when Rob (Pattinson) is on the cover of GQ sales are up 40 percent of any GQ, ever, so I would expect nothing less from these magnificent, crazy, wonderful fans," he said.
Welch said the cast enjoys getting to meet personally with the fans who have contributed to their success.
"We will be able to shake hands and look in people's eyes and kiss babies just like we're running for president," Welch said. "It's almost the least we can do; it's only because of them that this thing is a big deal at all. I'm replaceable, they're not," he said."
This is why when people ask the Lexicon admin team who they like the best in the cast part of the answer is Mike Welch!