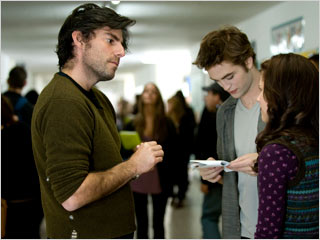 CNN talked to Chris Weitz about the upcoming New Moon DVD.
"Chris Weitz was determined to get the moon right. And when you have a movie about vampires and werewolves whose fans pay attention to every detail, it's important to get the moon right.
For the director of "The Twilight Saga: New Moon," though, the impetus for showing the moon phase properly in the shot that opens the film was an astrophysicist, not a Twihard.
"I went to a lecture by Neil deGrasse Tyson where he's complaining that they'd gotten the stars in 'Titanic' wrong," Weitz said. "So his voice was in the back of my head, that we had to get the phase of the moon properly."
"New Moon," which comes out on DVD Saturday, did a lot of things properly, indicated by the fans' support. Though "Twilight," the first film in the series, received respectful reviews and good box office, "New Moon" — which continues the story of lovestruck human Bella and vampire Edward — was the bigger blockbuster, outgrossing the first film by more than $100 million domestically and earning more than $700 million worldwide."