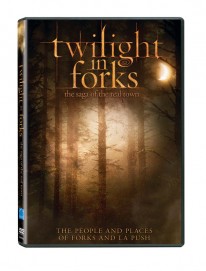 We met the folks who were making the Twilight in Forks documentary last summer when we attended the Summer School in Forks Twilight Convention. This was back before Summit Entertainment or any other major distributor got involved. We can attest to the fact that the filmmakers were very low key and unassuming; however, unlike many we have met, they were very Twilight savvy and non-judgmental! In fact it was a two-man, father & son, crew that we met.  They were very relaxed and very "unHollywood" wearing flannel shirts, tees, and jeans when we met them.  We have no idea if we are in the final cut of the documentary or not, but we are definitely planning to get it.
"Was there a difference between how the younger residents reacted, versus the older ones?
Brown: For the most part they're all aware of it; many of them have read the books and seen the movie. When you put yourself in the shoes of a high school kid, they're a little confused by it: "I grew up here, I don't get what's the big deal?" But nobody was dismissive or angry, or thought it was weird. Everybody in Forks, regardless of their age, can see there's a huge benefit, to the spirit of the town, the vivaciousness of what's going on there. Regardless of how they feel about the story, it's had an impact on their life which is positive; for that reason they are excited by it.
Baur: The demographic isn't as young as everyone thinks [I nod my head enthusiastically at this]. It's a small town, so the connectivity amongst individual people is much greater. You have to give the school a huge credit; in a town this size the school is the center of the town. We were invited to the graduation of Forks High School, to a football game — and the entire community is there. The school has done a great job at involving the kids in it. Here's a great example: people from around the globe are e-mailing the school, funny e-mails to 'excuse Edward from class' and that kind of thing. What they do is funnel these to the ASB (Associated Student Body) and they handle these e-mails.
See More on Moviefone.